Located in Rajsamand district of Rajasthan state, Goram Ghat is a hidden gem nestled in Aravali Hills. Situated near to the Kachhbali village (313341), Goram Ghat offers you scenic beauty of mother nature. Built during British time, Goram Ghat is a small station for local trains (meter gauge line). You can consider it as eternal hidden heaven which is accessible just via local train as there is no road connectivity.
It is one of the perfect places to visit in Rajasthan for picnics, excursions, and getaways. Nature and wildlife photographers would love this place as there is so much to capture. Deep dense forest, waterfalls, and wildlife make this place, a must-visit destination. Exploring this place via train journey makes it even more mesmerizing.
What is the best time to visit Goram Ghat?
The best time to visit Goram Ghat is during monsoon. You should visit it during July to September. You will love to see the lush greenery during cloudy or rainy days.
How to reach Goram Ghat?
Since there is no road connectivity to the place, you can reach here only via local trains (meter gauge line). There are 2 local trains operating on a daily basis. Here is the schedule:
Marwar Junction to Goram Ghat
6:10 AM to 7:47 AM (09602 – Marwar – Mavli MG Passenger Special towards Mavli Junction)
11:20 AM to 12:47 PM (52075 – Marwar – Mavli MG Passenger towards Mavli Junction)
Goram Ghat to Marwar Junction
11:49 AM to 12:58 PM (52076 – Mavli – Marwar MG Passenger towards Marwar Junction)
04:49 PM to 06:00 PM (09601 – Mavli – Marwar MG Passenger Special towards Marwar Junction)
Note: DO NOT miss your returning train as there is no option for accommodation at the place. Also, it is dangerous to stay amid the forest during the night. Wild bears are often seen by the tourists at the Goram Ghat.
Tourist Attractions in Goram Ghat
Goraknath Temple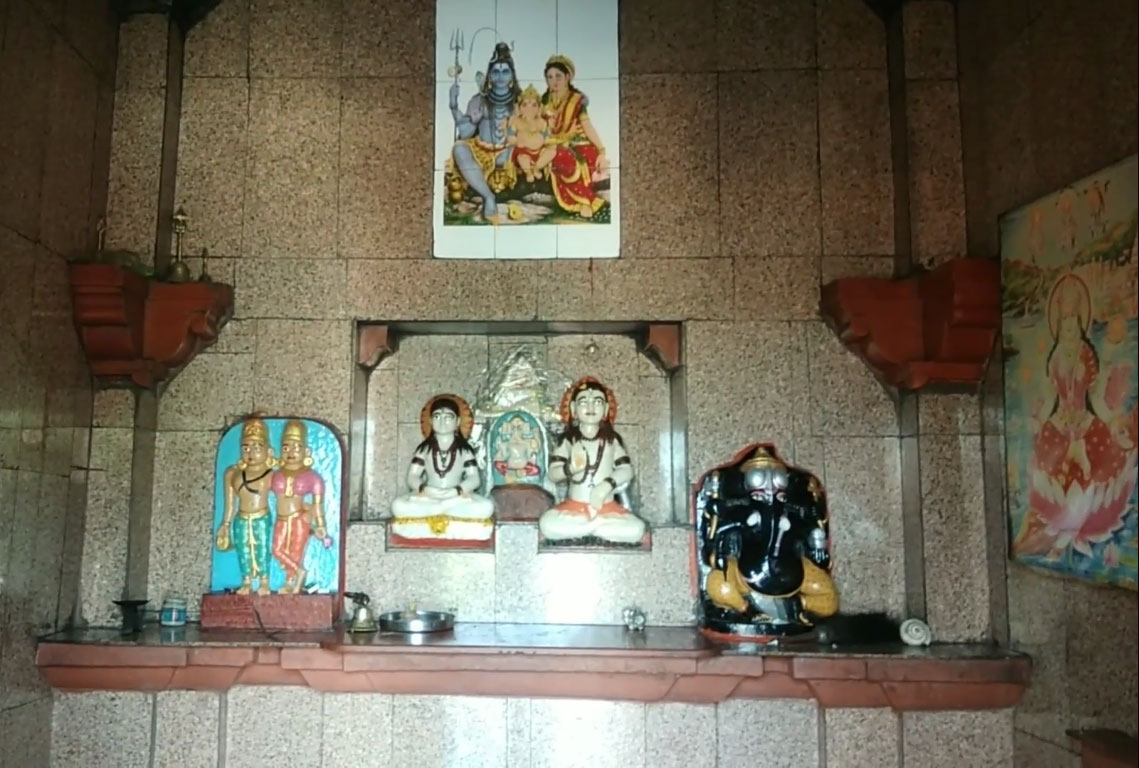 Situated at an altitude of 2.5 km from Goram Ghat railway station, Goraknath Temple can only be reached via foot. Full of adventures, this beautiful trek is just behind the Goram Ghat railway station. The passage is too narrow and has stairs on just a few places. The entire trek on the hilly forest is slippery and it is very difficult to trek. People with breathing or blood pressure issues are strictly not advised to climb. It is advised to trek in groups because:
group members will keep motivating each other while trekking.
in case of any mishappening, there should be someone with you.
there are chances that you encounter a wild bear. Trekking in groups might save you from attack.
Even after climbing for 1.5 km, you won't be able to see the remaining distance as the temple is not visible from anywhere between the treks. So, don't give up in between. The average time required to reach the temple is 2 hours. So, if you are climbing in the afternoon, keep a track of time so that you come down timely. Carry some snacks and a water bottle with you. In case you feel tired or thirsty, you can have some refreshments for energy. Try shouting after climbing about 1 km, you'll hear your echoes. The views after reaching a certain height are awesome. Avoid climbing during heavy rainfall as this is the same passage in mountains from where the rainwater falls.
Once you reach the Goraknath Temple, you will get food (meal) as 'prasad'. There is a huge arrangement of accommodation up to 500 people at the temple. There is also storage of 6 months of food. Surprisingly, you will also find electricity at the temple as they have solar panels installed over there. For drinking purpose, they store rainwater, so, do not waste water at the temple.
NOTE: If you want to climb to the temple, go there as soon as you reach via train otherwise you'll get exhausted and won't be able to trek. The best time to trek is morning.
Jogmandi Waterfall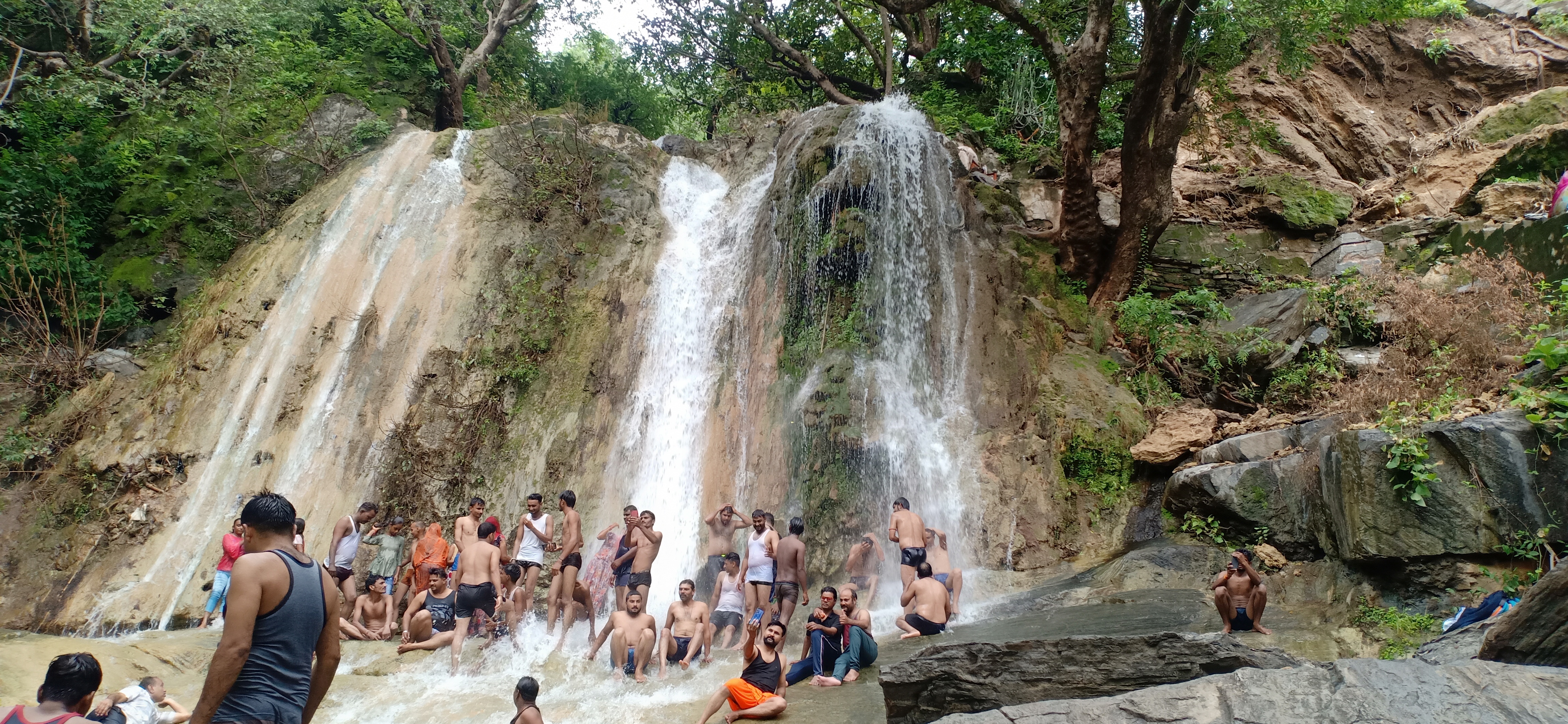 This miraculous waterfall can be reached by trekking down 0.5 km from Goram Ghat railway station. The way to waterfall is just in front of the railway station. The passage is fairly easy to trek and you can come here with friends or families to enjoy the chilling waterfall. This 50 ft wide waterfall is the best attraction of the Goram Ghat. The majority of the people visit Goram Ghat just to enjoy in this waterfall.
Note: If you enjoy being in the crowd, come here in 11:20 AM train. But, if you want to take pleasure of this scenic place while being just with your partner, pals or family, come here in the early morning train. Do not trek to the main waterfall, just stay before and below to the rail bridge. You will rarely find anyone over there. This is because everyone goes to the main waterfall. You will find the place like your private resort with a pool.
The Jogmandi Waterfall is located just below to the rail bridge. This gives a similar view to the "Dudhsagar Falls" of Goa. Therefore, many people when seeing the photos of Jogmandi Waterfall consider it as Dudhsagar Falls.
Jogmandi Mahadev Temple
This temple can be reached in two ways. Either you stroll on the rail track and reach there after walking for about 1 km or you can trek here via Jogmandi Waterfall (the shortest way). Nothing much special, it is a small temple of Lord Shiva.
Bheru Nath Ji, Heenglaaj Mateshwari, Peepleshhwar Maharaj, etc are the other few temples in the vicinity. But, these are located at some distance.
Useful Information
There is no accommodation, so do not miss your returning train.
There is no restaurant, so carry your meals as per requirements.
Carry water and light snacks when you climb Grak Nath Temple.
Although there are two small vendors at railway station selling tea, chips, biscuits and water bottles but do not take any chance, bring your water bottles along with you.
There are so many monkeys at the station and the waterfall. So, keep personal belongings safe.
Trains are heavily crowded during weekends. If you are visiting with family, try to avoid travel during weekends. Just 6 passenger coaches are there in the entire train.
DO NOT climb the Goraknath temple if you are a smoker. One requires to have good stamina like an athlete.
DO NOT climb the Goraknath temple by alone, there is a risk of encountering a wild bear(s).
There is no ticketing window at the station. Collect your returning ticket from the 'Guard Coach' on the train. You can also collect the return ticket from Phulad Railway Station.
The Only Station in the Journey – PHULAD
There is no station between Marwar Junction to Goram Ghat. But, since there is also no direct rail track; hence the train has to reach Phulad station. There is a halt of 20 minutes at Phulad railway station as the rail engine reverses for the journey towards new track (Goram Ghat).
Humble Request
DO NOT throw plastic bags, bottles or wrappers over there. Bring it with you so that this place can remain beautiful for others.
DO NOT throw stones or annoy monkeys, they can harm you as they are in groups.
If you want to enjoy alcoholic beverages with your folks, please do not throw away any bottles or plastic glasses; take them with you.
Photo Gallery