For some peculiar reasons, Jodhpur is one of the most amazing cities in India – as it is also named the Sun City and Blue City! This gorgeous city is acknowledged as the 'Sun City' because it enjoys the bright and sunny weather all around the year. It is also called as 'Blue City' since most of the houses painted blue or have blue ornated doors or blue roofs. Jodhpur is a very well-liked tourist attraction with various forts, heritage monuments, temples, and palaces to explore.
As Jodhpur is situated on the foothill of sandstone, it looks like an Oasis in the Thar Desert. Here is a list of tourist places where you can witness ethnicity, culture, and majesty enjoying pleasing hospitality.
Tourist Attractions in Jodhpur
Mehrangarh Fort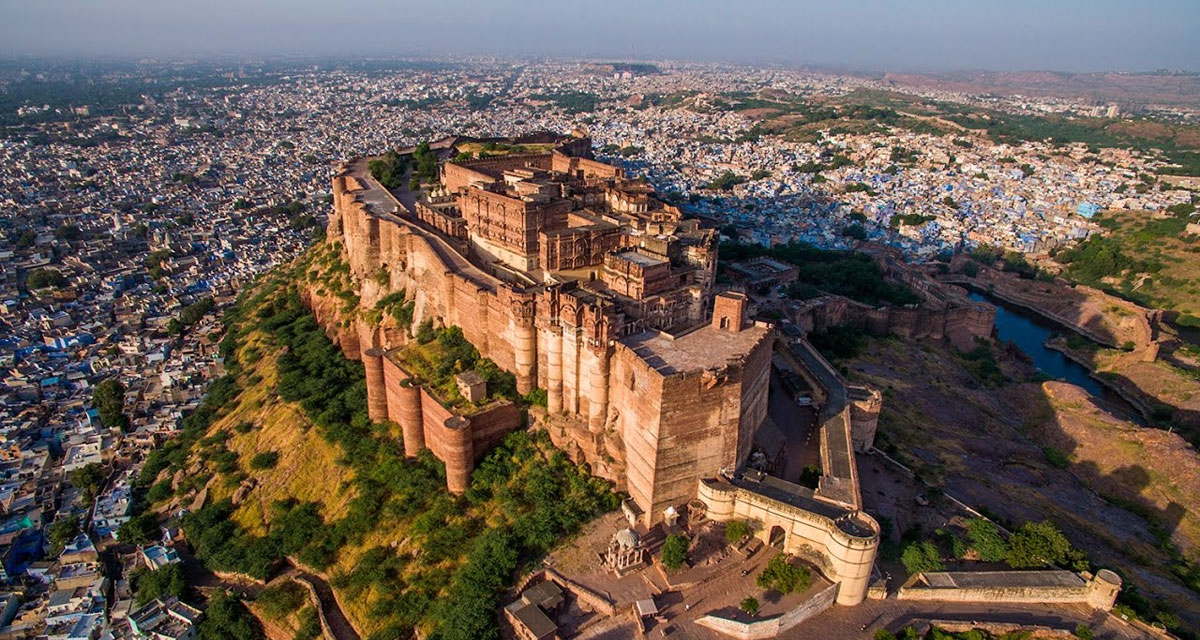 Mehrangarh Fort is an epitome of opulence, royalty, and devotion which is positioned on a 410 feet high hill. Rao Jodha, the ruler of Rathore dynasty erected it around 1459 and is enclosed within strongly fortified walls which stand strong even today. The brown walled exteriors and extremely designed interiors will transport you into another era! There are various legendary attractions inside the fort like palaces, chambers (Sheesh Mahal, Jhanki Mahal, Phool Mahal), temples, galleries, and a museum.
Clock Tower (Ghanta Ghar) & Sardar Market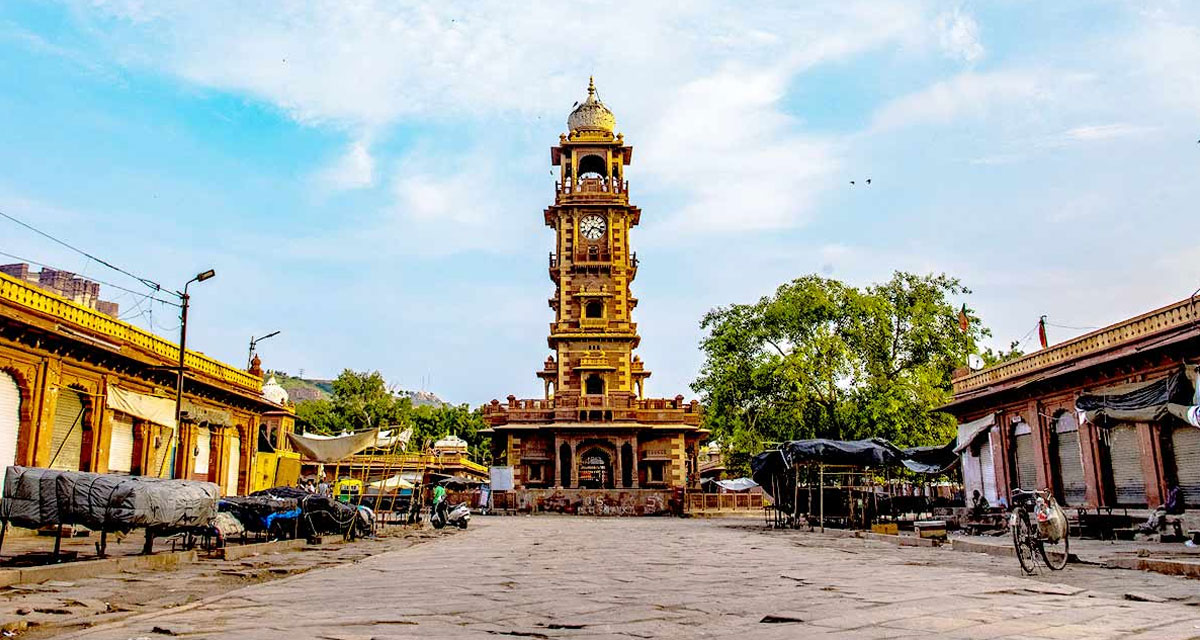 The Clock Tower is a popular landmark in Jodhpur old city. The vibrant Sardar Market is close to the tower where vendors gather to trade and sell fruits, vegetables, gems, textiles, and art & crafts. It is also the best spot to try two iconic foods of Jodhpur.
Mishrilal Lassi: It is a drink made of curd that has a thick creamy texture.
Shahi Samosa: Massively spicy stuffed with potatoes, peas, cashew nuts, etc!
Umed Garden Jodhpur
The famous Umed garden was developed by Maharaja Umed Singh. It is spread on an area of 82 acres and has lush green lawns, beautiful roses, and other seasoned flowers. Also, inside the garden, there is a museum and a zoo. A "walk-in-Aviary" in the zoo houses different types of birds, African and Australian Parrots, rabbits, and ducks. This garden is the best place to stay connected with animals and birds. Also, there are crocodiles, monkeys, ducks and deer. It offers a good opportunity to educate children in relation to nature.
Jaswant Thada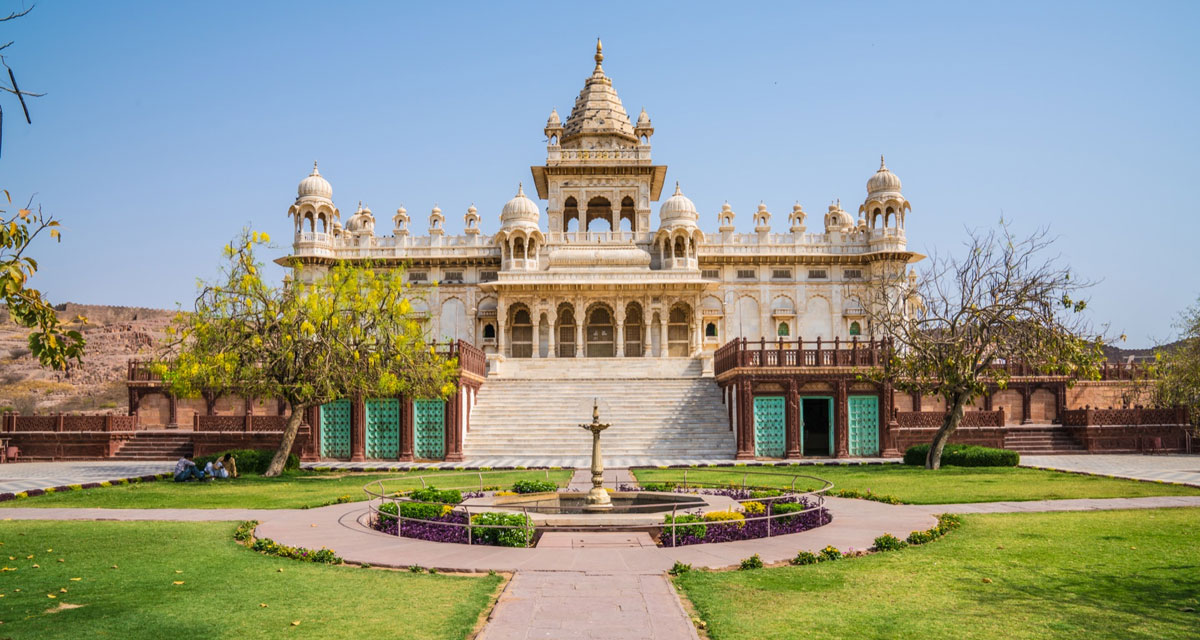 The Jaswant Thada is a huge cenotaph, built by Maharaja Sardar Singh in 1899 in memory of his father. If you love architecture and nature, this should be in your list of places to visit in Jodhpur. It is built up of thin layers of marble, which produces a soft glow in the sunlight. This is quite impressive from close up with a huge lake and the mountains nearby. It is a perfect example of architectural brilliance and exhibits a wide variety of paintings and portraits of Jodhpur rulers.
A holiday trip with the family or friends to explore the nature and culture of Jodhpur certainly leave good memories. To make your trip more comfortable and relaxed, you can make bookings for sightseeing, car rental and accommodation in advance. There are more than 1000 hotels in Jodhpur so you can easily find the one that fits your requirements and budget both.